Fund Flow Monitor

Change in fund flow vs market cap (Dec 9, 2019)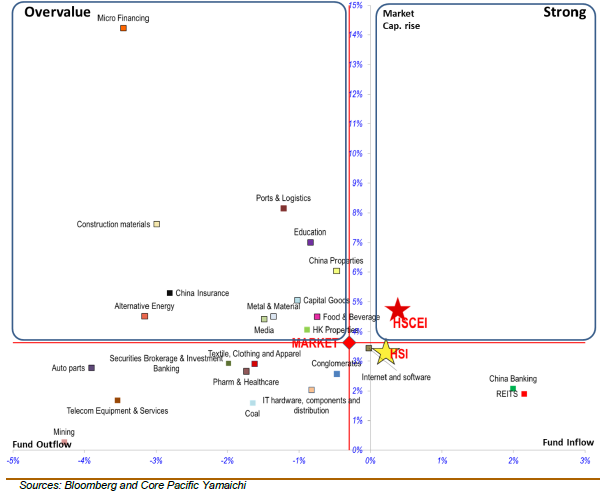 Weekly recap:
HSI stabilized at recent low, some performance became diverge. Hang Seng Index opened lower but ended higher last week as investors become more hopeful over the Sino US trade negotiation. Sector performance was diverge. 9 sectors turned to bullish zone, including Capital Goods, Textile, Clothing and Apparel, Education, Civil and construction, Shell, Industrial Parts, Dairy Product, GEM and Consumer electronics. On the other hand, number of bearish sectors slightly reduced to 10, with Pharm & Healthcare, IT hardware, components and distribution, Media, China Banking, Food & Beverage, China Insurance, and Auto & Parts being in overvalue zone.
Weekly investment themes:
Internet & Software. Investment sentiment towards the Internet stocks had improved lately, as the Alibaba new listing helped fuel investment sentiment. Sector fund flow last week was led by Alibaba (9988). The newly listed Internet giant is becoming a favorite among institutional investors, particular in view of its rapidly growing cloud business. Moreover, investors expect the Internet giant will soon be included in major market indices and HK connect, thereby lifting its liquidity. Fund flow into Tencent (700) began to pick up as its valuation becomes more reasonable at 30.6x/25.4x FY19F/20F PER. Its newly launched mobile game PUBG has become blockbuster and recorded USD158 mn billing in November, which shall help Tencent to sustain double digit segmental online game growth. Kingsoft (3888) also saw fund inflow picking up as it reported breakeven in 3Q19, as driven by online game and cloud businesses. The Company is looking to spin off its office WPS business.
Education. Sector fund flow of Education improved last week. Investors went bottom fishing as the overall stock market sentiment improved and some of the education stocks reported solid annual results. Investors tend to weigh on student growth and earnings outlook particularly for some private higher education providers which are less policy sensitive. Fund flow into Yuhua Edu (6169) picked up last week. The Company recently issued HK$2.02 bn convertible bonds due 2024 with 0.9% annum interest and initial conversion price set at 34% premium to the reference share price, which pinpointed investors' confidence on its earnings outlook, particularly in view of its recently announced 69% Yoy increase in net profit for FY18/19. Meanwhile, China East Edu (667) also reported improving fund inflow. The Company reported its 1H19 adjusted net profit rose 88.1% to RMB 408 mn with number of new students enrollments and new customers registered up 22.9% yoy.
Detail