Fund Flow Monitor

Change in fund flow vs market cap (Oct 14, 2019)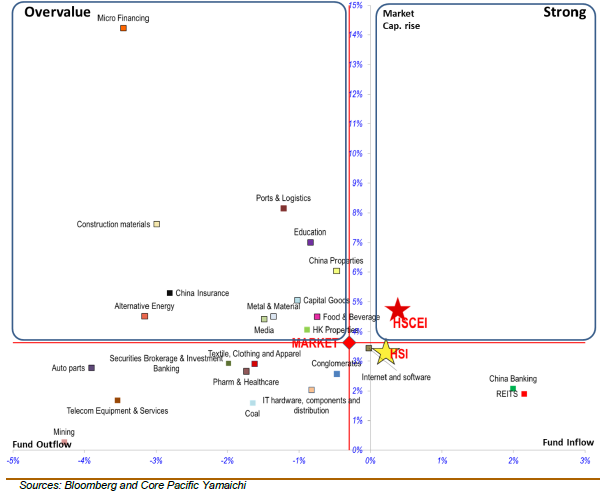 Weekly recap:
HSI rebounded without strong sector momentum. Hang Seng Index rebounded from its recent low and the index earned 487 points last week as investors expected US and China would head for a mini-trade deal. However, the revival of the market was not matched with sector momentum. Bullish sectors remained 5, such as Securities Brokerage & Investment Banking, Pharm & Healthcare, Capital Goods, HK Banking, and HK Properties. On the other hand, bearish sectors decreased to 13 from 14, such as China Banking, Media, Alternative Energy, Metal & Material, Oil & gas, GEM, Civil and construction, Consumer Fashion & Apparel, Coal, Shell, Telecom Equipment & Services, Consumer electronics, and REITS.
Weekly investment themes:
Phama & Healthcare. Sector fund flow last week was led by Sinopharm (1177). The Company has the strongest R&D pipeline across the sector, with 30/18/24 blockbuster drugs of either exclusive or innovative status expected to be launched for FY19F/20F/21F. The Company has 2 drugs, namely Azacitidine for injection and Tofacitinib Citrate Tablet, obtained CFDA approval last week. Fund flow into Wuxi Biologics (2269) picked up significantly last week. In addition to expanding biologics R&D pipeline, contract manufacturing will be an increasingly important growth driver when its clinical projects gain commercial approval. Management expects to receive royalties from commercialized drugs starting from FY20F. More importantly, the recently acquired vaccine CDMO with total contract value exceeding USD3 bn is expected to contribute by FY21F.
Construction Material. The sector resumed fund inflow in the past two week thanks to the strong cement price. The nationwide cement price index further extend to 151 and the latest reading was up 4.27% yoy. The strong seasonality in 4Q is likely to hold the cement prices and give a strong boost to the industry's profit for 2H19F. Sector fund flow was led by CR Cement (1313) as the Counter is expected to particularly benefit from geographically strong demand in South China. Besides, Conch Cement (914) also saw influx of fund. The Company reported 18% growth in 1H19 net profit to RMB15.3 bn, on the back of 57% revenue growth.
Detail