Core Pacific-Yamaichi customers in addition to the local securities and futures trading in Hong Kong, the Company has provided other diversified products in 18 major global markets, including securities, futures and bonds trading, and to reap the following benefits: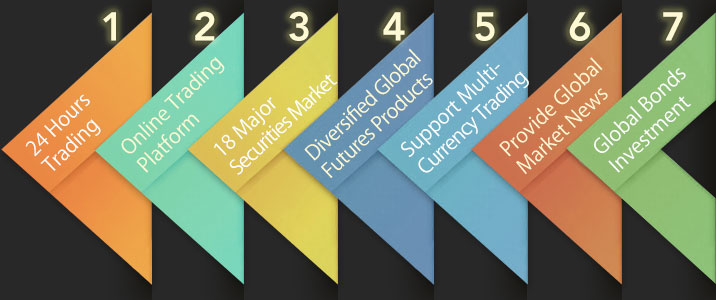 (1) 24 Hours Trading
Our company provides 18 global major securities and futures markets trading services, allow clients 24 hours to master the investment opportunities, balancing risk and portfolio management.
(2) Online Trading Platform
Customers can through the following channels to place orders anywhere quickly and strategizing
(3) 18 Major Securities Market
The client can involve the world's 18 major securities markets through our companies, including Hong Kong, China, the United States, Japan, Korea, Taiwan, and invest international brands in different companies around the world, e.g Google (GOOG)、Walt Disney(DIS)、Nike(NKE)、VISA(V),Fujitsu(6702)、Toyota(7203)、Canon(7751),Samsung (5930).
(4) Diversified Global Futures Products
We provide about 60 kinds of global futures products, so that customers have more choices at the time of investment, speculation and hedging.
60 kinds of global futures product categories include precious metals, agricultural futures, energy futures, foreign exchange futures and bond futures.
(5) Support Multi-Currency Trading
The company's securities / futures accounts support multiple currencies, customers simply using the same securities / futures accounts can trade different securities / futures markets.
(6) Provide Global Market News
Core Pacific-Yamaichi Research Department published daily research studies in website, including technical analysis, tactical trading and Hong Kong/US market wrap. Customers can browse the various studies and Hong Kong/US market wrap to have more global economic news.
(7) Global Bonds Investment
Core Pacific-Yamaichi Fixed Income has extensive market networks covering Asia, Europe and the Middle East, includes government bonds, Emerging countries bonds, provide diversified bonds products, thereby enhancing market liquidity.
We source a variety of fixed income products through a one-stop trading platform. With an efficient and attractive price discovery mechanism, Core Pacific-Yamaichi Fixed Income optimizes execution based on various sources